Monhegan
Monhegan is a small, rocky Island ten miles from the nearest mainland and scarcely a square mile in area. It is accessible only by boat and there are no cars or paved roads on the Island. Since long before the explorer John Smith visited it in 1614 it was known to Native Americans as a prime fishing area, and today its economy is still ruled by those who make their living from the sea by fishing and lobstering.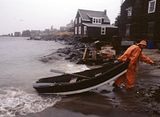 Windjammer Sailing
Set sail on a tall ship cruise and experience the coast of Maine's scenic beauty from the sea. Choose from 12 owner-operated Maine Windjammer Association ships to enjoy magnificent sailing.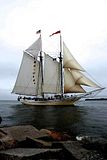 Rafting Kennebec
Kennebec River whitewater rafting trips are not like other Maine rafting trips! When you go Kennebec River rafting, you'll enter a beautiful gorge, view beautiful scenery, and experience the big rapids only a big gradient river can generate - this is what makes the Kennebec River so exciting! That guy in the back of the raft is about to die.
Casco Bay
Casco Bay is an inlet of the Gulf of Maine. Its easternmost approach is Cape Small and its westernmost approach is Two Lights in Cape Elizabeth. The city of Portland sits along its southern edge. The islands in the bay are also called the Calendar Islands, based on the popular myth there are 365 of them.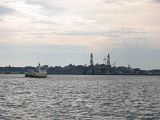 Southern Maine Beaches
Breathtaking coastal scenery, broad beaches of pure white sand, and quaint, picturesque New England villages mark the Southern Maine Coast.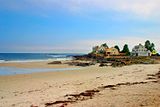 Acadia National Park
People have been drawn to the rugged coast of Maine throughout history. Awed by its beauty and diversity, early 20th-century visionaries donated the land that became Acadia National Park. The park is home to many plants and animals, and the tallest mountain on the U.S. Atlantic coast. Today visitors come to Acadia to hike granite peaks, bike historic carriage roads, or relax and enjoy the scenery.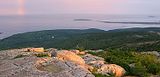 Appalachian Trail
Lakes, streams, and bogs abound. While that makes moose and loons common sights, it also makes for muddy tread way and many fords of mountain streams.
Mount Katahdin
Mount Katahdin is the highest mountain in Maine. Named Katahdin by the Penobscot Indians, the term means, "The Greatest Mountain." Katahdin is the centerpiece of Baxter State Park a steep, tall mountain formed from underground magma.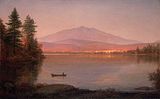 York Village
Old York (or York Village) is the historic town center, settled by Europeans in 1624. Old York received a royal charter in 1639, the first English town in the country to have this privilege.
Camden
Voted the prettiest in Maine in 2009, Camden harbor's mix of working and pleasure craft includes a fleet of windjammer schooners, which began operating tourist cruises in 1936.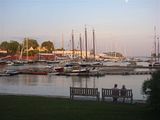 Blue Hill
It's rich with New England history, antiques, crafts, fine restaurants, inns, and art galleries, and an important summer cultural life.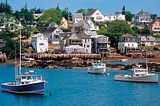 Northeast Harbor
Over the years Northeast Harbor has become famous as much for its summertime residents as it has for its beautiful and protected harbor full of exclusive yachts and sailing vessels.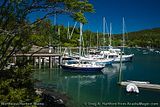 Eastport
Eastport is a small city consisting entirely of islands.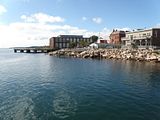 York Beach
York Maine has something for everyone, a famous lighthouse, fabulous sand beaches, boating, historical museums and Maine's largest zoo.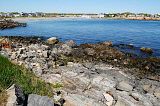 Old Orchard Beach
The town is a popular summer beach destination. The seaside amusement park Palace Playland is located in Old Orchard Beach.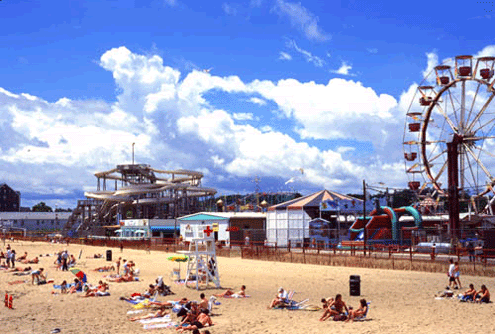 Mount Desert Island
This is the largest island off the coast of Maine. Mount Desert Island is a glacier-formed island in the Atlantic Ocean off the northern coast of Maine.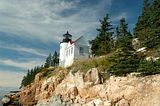 Portsmouth Naval Shipyard
The Portsmouth Naval Shipyard, often called the Portsmouth Navy Yard, is a United States Navy shipyard located in Kittery on the southern boundary of Maine near the city of Portsmouth, New Hampshire. It is used for remodeling and repairing the Navy's ships.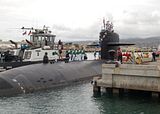 Kennebunkport
Settled in the 1600's and a long time ship building mecca, the river banks saw five-masted ships and schooners making their way down the river on their way to the sea. Sea captains built fine mansions, many of which are preserved today as lovely inns with antique charm.
Merchants Row
An archipelago of 30 or 40 islands lies between Deer Isle and Isle au Haut. Merchants Row is unsurpassed for beauty anywhere in Maine. The islands are all darkly wooded and fringed with white and pink sloping granite shores. Tight passages wind between them, and harbors are everywhere.
Moose Safari
See Moose, Deer, Bear, Eagles, and Osprey in their natural habitat. Oh my god.